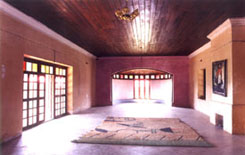 The palace is located stragtegically since the road to the internationally popular Periyar Wildlife Sanctuary at Thekkady passes alongside the resort. This road has been declared by the Government of India as one of the two tourist circuits in the state.

With extensive and intricate woodworks, the palace has 13 spacious rooms, with an undisturbed view of the magnificent greenery around. The rooms open out to wide verandas which enclose a large courtyard at the centre. The kitchen block with a restaurant near it is connected by a corridor.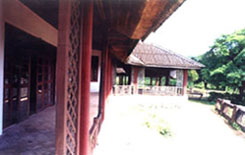 The palace complex, sprawling across 20 acres of land, is on top of a gently sloping hill. On one side of the palace is a valley with a natural spring. The rear of the complex is mostly open grassland, with a tennis court, a natural pond with a tiny stream running alongside. The entire site is hemmed in by a thick wall of evergreen forests and shady trees that tower into the skies.