As you drive along the winding Kottayam-Madurai highway towards Thekkady, you suddenly come upon a charming old palace sitting pretty on a wooded hillock. The palace is a Nalukettu, the typical Kerala style of residential architecture, the palace was built by Sree Moolam Thirunal Maharaja, king of Travancore (1857-1924), for the summer holidays the royal family. Sree Chithira Thirunal, the last king of Travancore, had added a few more rooms to the palace. The campus has now been converted to an idyllic vacationland.

It is said that during one of his visits to the palace, Sree Chithira Thirunal received a message from the government of the newly independent India that all kingly privileges have been abolished in the country. Without a flutter, the former king removed the royal insignia from his car and returned to his palace in Trivandrum with dignity and pride as a common citizen.

Members of the Travancore royal family

are well-known for their noble qualities, progressive outlook and artistic talents. It has produced a number of distinguished celebrities. They pioneered English education and English printing in Kerala. They were also the first to throw open the Hindu temples to people belonging to the lower castes.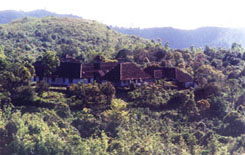 One of the illustrious kings of Travancore was Sree Swathi Thirunal (1813-1846), a great patron of the arts and a gifted music composer. Today, musicians enthusiastically recite his compositions in six South Indian languages.
Sree Raja Ravi Varma (1848-1906) is another scion of the Travancore royalty. His masterly paintings rank among the finest in the world.